Entrepreneurship Series: Matilde Ferri
At only 21-years old, Matilde Ferri has successfully established herself as the founder and designer of Madunine, an Italian line of artisanal bags and playful sleepwear. It comes as no surprise that this Milanese entrepreneur is on her way to instituting her brand alongside the major luxury goods of the global marketplace: Matilde lives and breathes creativity, she is tremendously driven and curious, and has a charm and character that can brighten any room.
Born in Milan, Italy and raised in New York City, Matilde attended an Italian school in Manhattan before moving back to Italy on her 16th birthday. Always one to go against the grain, Matilde decided in her senior year of high school that she did not want to go on to university. She was in the middle of taking the entrance exam for Bocconi, an elite business school in Milan, when she closed her booklet and walked out the door. She thought to herself "Just because everyone else is here, why does that mean that I have to be too? This is not who I am." Matilde had no specific plan in mind for what to do next, but she was convinced she could not remain constrained to a classroom, studying something she did not love, for another four years. She was hungry to learn, eager to try anything out, and yearned for a hands-on experience out in the world. In an endeavor to find her true vocation, Matilde took a leap of faith that pushed her entirely out of her own comfort zone.
Matilde immediately set out to find a job and was willing to take on any offer that came her way.
She never had an itching for fashion and claims that she would not characterize herself as someone with a keen fashion sense, although I would say otherwise. Free-spirited at heart, she has never been one to follow trends, but is rather drawn to a simple, colorful, effortless aesthetic. However, she was attracted to the environment of the fashion industry, where one does not need a diploma to succeed, but must possess artistry, initiative, and an innovative mind. It is bursting with creativity, constantly changing, and its collaborative nature provided an ideal opportunity for Matilde to learn, progress, and experiment.
The first job she found was in an event agency called Fasten Seat Belt, located a couple footsteps from her home. The firm specializes in fashion and luxury products and is responsible for organizing the events of top brands such as Chanel, Armani, and Ferragamo. Fasten Seat Belt was in the process of expanding and they needed an intern to provide some extra hands. She humbly remarked to the leaders of the company, "I am here and I want to learn. I decided not to study, so this is my chance to learn something." She began by carrying out small tasks such as grabbing coffee and replacing the toilet paper, and was steadily assigned more significant responsibilities. She started learning the basic skills of the business, such as how to send a professional email, how to use DHL to ship to Japan, and how to organize an event from A-Z. 6 months later, she was promoted to the position of chief event organizer for Armani Exchange. At only 18, Matilde was flying to Bulgaria, Paris, and Lisbon to manage Armani's major events.
After her experience at Fasten Seat Belt, Matilde went on to work for her sister Marta Ferri, an Italian fashion designer that creates beautiful vestiti su misura, or made-to-measure dresses.
This is when Matilde became first acquainted with fabric stores. She was immediately enchanted by the assortment of shades, textures, and patterns, and as she explored the countless fabric shops nestled within the streets of Milan, she became inspired to create something of her own.
Her first thought was to create shoe line, but as she delved into the industry she realized how complex the shoe sector is due to its high expenses and the difficulties of creating multiple sizes.
One fabric, nido d'ape, had especially caught her eye. She was drawn to its soft, artisanal look and extensive color selection, and immediately began to play around with the idea of using it as the basis for beach bags and pochettes. "I love color, so when I saw the material I thought 'I want to play with this, what can I do with this?" She envisioned a bag that could fit a bikini, sunglasses, and sunscreen, but that could also get wet when its user sat by the sea or went for a swim. This is where innovation was incorporated into her designs, and through this aim Matilde successfully differentiated her bags from similar products in the marketplace. The inside of the bags are hyper repellant, and she is currently collaborating with a tech company to produce an 100% water proof purse.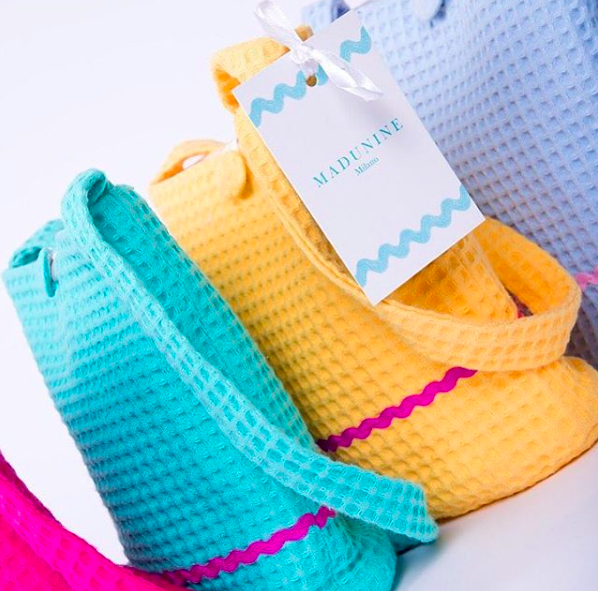 Matilde initially produced her handbags for herself and her friends. However, she soon perceived the potential of this product and knew that the key to this enterprise was to begin selling her creations online. "It is amazing how you can do what you like, and also make a living out of it. I started to teach myself everything I needed to know by reading manuals on how to create a website and studying business skills and strategies in books such as 'What they Don't Teach You At Harvard Business School.'" She named her brand Madunine, plural for Madunina, which is Italian dialect for Madonnina, the symbol and protector of Milan, purity, and beauty. Her website explains, "The golden Madonnina, standing on top of the Duomo of Milan, is said to bring good luck and was once Milan's highest points, above all roof tops." Matilde launched the online site this past June and her products can now be found in the luxury resort of Borgo Egnazia in Puglia, Italy and will be available in 19 stores across Japan this Fall.
Matilde's creative intuition and entrepreneurial spirit continues to grow, and in the past months her brand has already expanded. When she first moved back to Milan, she was fascinated by the very Italian custom of wearing matching sets of pajamas to sleep. "I started to discover this concept of having real pajamas in my drawers. I found this amazing store that sold pajamas, except I didn't like how they fit. They were sad, and almost hospital style. What if I made it fun? They are in the end, another outfit too." She searched throughout Milan, and eventually across the web for the perfect pair, but was unsatisfied with the rigid fit and monotonous hues of the selection available. She resolved to create these playful pajamas herself, and came up with a lively, young sleepwear line for Madunine. The sets are classic, but their striking color combinations of maize yellow and celeste, or turquoise and bright red stripes, are unprecedented for this rather traditional garb.
Although Matilde is based in Italy, she has been eager to spread her ideas and partnerships across the globe. Matilde is currently collaborating with Susannah Garrod, a fashion illustrator for British Vogue, after coming across her creations on Instagram. She reached out to Garrod with the proposition of producing a swimwear line: Matilde designs the bathing suits, and Garrab conceives the patterns. The swimwear line will launch in June 2019.
When asked about her business strategy, Matilde contends, "Instagram has been my power tool." She did not invest in commercials or organize events to propagate the brand, and all her customers have simply found Madunine through its Instagram account. She often gifts bags to individuals that fit her brand aesthetic and she believes could wear them well, such as the designers of VIBI Venezia, Margherita Missoni, and Matilde Borromeo. "I look for people who inspire others, have followers, and could give the right attention." Although she does not ask them to, these influential figures have posted photographs displaying her bags and pochettes, further spreading the word about this up and coming line.
Not even a year old, her brand already has a powerful identity. Taking inspiration from photographers such as Slim Aarons, the images of her products are colorful, unpretentious, romantic, and evocative of Italy's "dolce vita." They are both elegant and playful, simple yet sophisticated. Her photos are spontaneous, and she does not spend time polishing her feed. Her brand is a pure reflection of Matilde and her designs capture the charm, joy and zealous spirit that transcend this individual. She explains, "My products are so simple that not everyone understands them. They attract people who are unpretentious, but also have taste. If you don't have taste, you will see my pochettes as just bags made out of a towel. To grasp the concept, you have to be fun and not take yourself too seriously."
Matilde's eloquent taste, experimental mindset, and vibrant ambition will continue to open countless doors and opportunities ahead. Through her devotion and careful attention to detail, Matilde has created products that stand out discretely, yet memorably, and align entirely with her values, penchants, and colorful outlook on life.